NYSCAR met on September 24, 2017 at the Turning Stone Resort and Casino in Verona. The following members were elected for officers and governors for 2018:
• President: Guy Blake, CCIM, Newburgh;
• First VP, James Walker, CCIM, Glenham;
• Second VP, Ed Gallacher, CCIM, Hartford;
• Treasurer, Dana Crocker, Syracuse; and
• Secretary, Robert Strell, Buffalo.
• Governors: Mercedes Brien, Rochester; Robert Giniecki, CCIM, Greater Capital; Jim Kelly, CCIM, Greater Syracuse; Jerry Norton, CCIM, Metro LI; and Jim Knight, WNY.
Congratulations to all!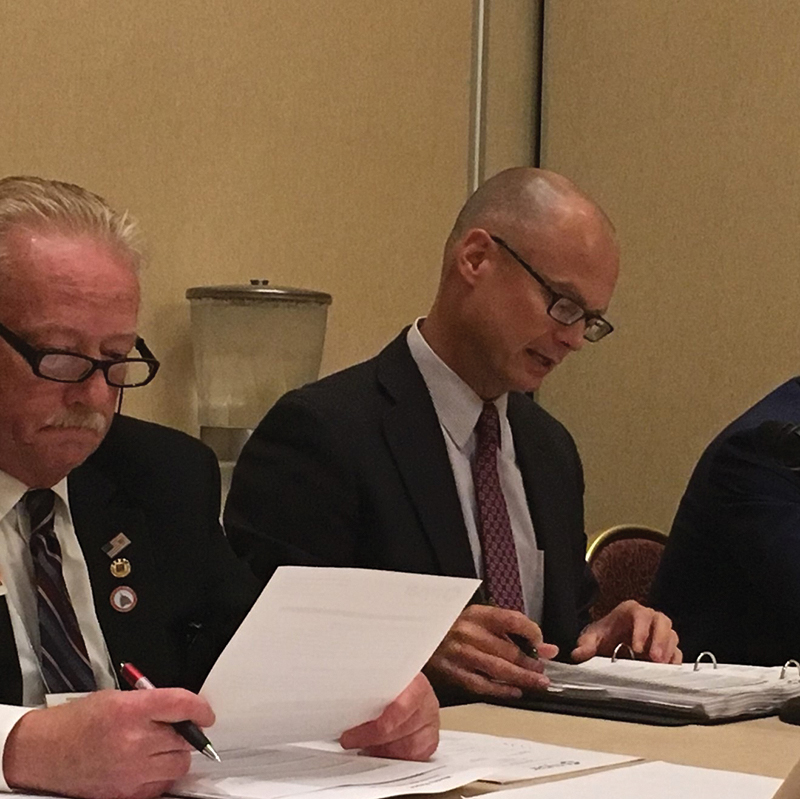 The board also approved some amendments to their bylaws, 2018 budget and the Strategic Plan. Committee reports were given by the Bylaws, Education, Grievance, Legislative, Membership Development , RPAC and Annual Conference Committees. Committee reports were also given by the chapter presidents around the state and the Upstate CCIM Chapter president.
Several members attended the NYSAR Commercial Issues Working Group meeting which followed the board meeting. The Working Group is chaired by NYSCAR past president Michael Johnson (WNY). Attendees were given an update on legislative items at the State and Federal levels.
Education
With the Summer behind us, many members think about taking courses to keep their license current. I wanted to remind you about the licensing requirements so that you don't get caught without having the proper amount of hours or proper courses for your renewal.
Requirement for License Renewal
Effective January 1, 2017, any real estate licensee who renews their license must have completed 22 ½ hours of approved continuing education, three hours of which must include fair housing and/or discrimination in the sale or rental of real property or an interest in real property along with the updated requirement of at least 1 hour of law of agency. If a salesperson is within their first license term, they must complete two hours of agency along with the other designated educational hours. This change does not apply to those licensees who are exempt from the continuing education requirement.
To assist you in locating courses or help you determine whether you have already met the requirement, NYS DOS will be placing a list of courses which meet the agency requirement on their website www.dos.ny.gov/licensing.
Upcoming Courses (Commercial)
"Comprehensive Due Diligence is Key in Real Estate and Turning Real Estate Knowledge into Income"
Date: October 10, 2017
Location: Syracuse:
Instructor: Tim Conley, CCIM, SIOR,
Sponsored by: NYSCAR in cooperation with the Syracuse Area Chapter.
Overview: This course will provide a comprehensive overview of what is important in creating successful real estate transactions. Topics to be covered will be the due diligence that is impacted by "municipalities" regarding their regulations, services and planning requirements for commercial real estate development and renovations.
"Turning Real Estate Knowledge into Income"
Overview: Understanding the potential of the income attributed to real estate services and how it can be contributed to real estate investments:
• Application of the components "Cash Flow Analysis resulting in rates of return;"
• Introduction of available government programs for active investors;
• Creating and improving a financial proforma;
• Define and calculate new operating income to maximize investment potential;
• Creating a competitive bidding process for construction and financial services;
• Establishing market rates by measuring results on a Cash to Cash basis and Internal Rate of Return;
• Using the knowledge to realign the investment possibility and results and gain insight into calculating sales income and taxable obligations; and
• The use of and structuring of investment partnerships and joint ventures.
Form more information please go to www.nyscar.org for details.
Triple Play Conference
Sponsored by the NY, PA and NJ Associations of REALTORS
Go to www.realtorstripleplay.com for details and to register.
National Association of Realtors Annual Conference
Location: Chicago, Ill.
Go to www.NAR.realtor for details and to register.
Brian DiNardo is the president of NYSCAR and is a NYS licensed real estate broker, DiNardo Realty Corp., East Rochester, N.Y.