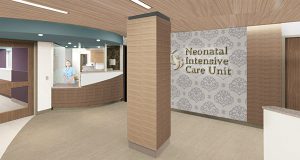 Rendering, reception area at Sisters Hospital's Neonatal Intensive Care Unit - Buffalo, NY
Buffalo, NY Picone Construction Corp. has begun the expansion of Sisters Hospital's Neonatal Intensive Care Unit (NICU) after their wall-breaking ceremony held January 25 at 2157 Main St. The new $8.8 million NICU is scheduled to open later this year, and will enable the hospital to expand its current NICU from 20 to 40 beds. The additional 21,000 s/f NICU will be located adjacent to the hospital's inpatient maternity unit and newborn nursery, creating a centralized location for mother-baby care.
Construction plans additionally include: utilization of existing space which will not interrupt care provided in the current NICU; single family rooms to enhance individual care; large central technology hub; dedicated "parents-only" space for overnight accommodations for families; and reduced light and sound control to create a more soothing environment for premature babies.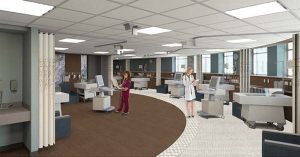 Rendering, interior Neonatal Intensive Care Unit at Sisters Hospital - Buffalo, NY
The architect of record is Kideney Architects.
Picone Construction Corp. has been providing professional construction services to the Western New York area since 1931. The firm specializes in general contracting, construction management, design/build, and facility services. Past projects stand as enduring testimonials to the integrity and commitment that has always characterized their work. Extensive experience and knowledge insures that all clients will receive the quality and value they demand.