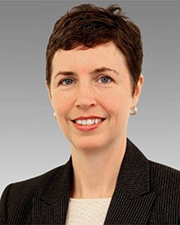 New York, NY According to Morningstar Credit Ratings, LLC, Lea Overby has been appointed head of commercial mortgage-backed securities (CMBS) research and analytics.
In her new role, Overby will oversee the ongoing management and development of Morningstar's CMBS business, including new issue and surveillance ratings, CMBS research, and CMBS analytical products. Overby is based in NYC and reports to Vickie Tillman, president of Morningstar Credit Ratings.
"Lea has proven to be an extremely effective leader on our CMBS team and has played a key role in the management of this growing business," Tillman said. "One of our primary goals at Morningstar is to ensure the market's understanding of our ratings process, methodologies, and models. We're confident that Lea's strong background and tremendous knowledge of CMBS and the structured finance markets will position our CMBS business for future success."
Overby is responsible for leading Morningstar's CMBS and commercial real estate (CRE) rating initiatives, including the management and ongoing development of analytical staff, rating methodologies, criteria, and models, and leading the group's effort to produce insightful analytical output while ensuring a high level of integrity, transparency, and accuracy in Morningstar's CMBS ratings.
Previously, Overby was managing director, research at Morningstar Credit Ratings, a position she held since she joined the company in August 2016.
Overby has more than 15 years of experience in structured finance as both an investor and a sell-side researcher. Before joining Morningstar, she served as head of CMBS and asset-backed securities (ABS) research at Nomura Securities, where she developed a well-regarded publishing platform focused on CMBS and both consumer and commercial ABS. Prior to Nomura, she served as a junior portfolio manager overseeing a portfolio of primarily CMBS for BNY Mellon Treasury.
Overby holds a bachelor's degree in mathematics from the University of North Carolina at Chapel Hill and a master's degree in mathematics from Vanderbilt University and has completed doctoral research in mathematics.
Overby replaces Charles Citro, who has left Morningstar to pursue other opportunities.