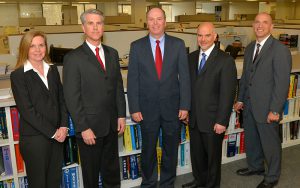 Manhattan, NY In an expansion move, OLA Consulting Engineers, a Hawthorne-based mechanical and electrical engineering company, has opened its new office located at 12 East 49th St.
"We've been doing business in New York City since we started in 1974. In fact, in many years, half of our revenue is generated from clients in the city," said Patrick Lynch, P.E., president of the company. "Having an office in Manhattan provides us with new opportunities for growth. It also enhances our ability to recruit young professionals who want to work and live in the city."
Current NYC clients include Ralph Lauren, Rudin Management, Archdiocese of New York and Pyne Companies Ltd. OLA Consulting Engineers has also worked on projects in the city for the Brooklyn Navy Yard, Battery Park City, The College of Mount Saint Vincent, St. Ignatius Loyola School, Convent of the Sacred Heart, Saint Francis Xavier Church, Brooklyn Junction Mall, the Argonaut Building, 200 Fifth Ave., Tammany Hall, the Watchtower Building, and Longchamp's Manhattan store.
Based in Hawthorne with a staff of 50 professionals, OLA Consulting Engineers provides mechanical, electrical, plumbing, and fire protection engineering services, energy engineering services, and commissioning services for commercial, industrial and institutional facilities.
The company's projects include new construction, retrofits and renovations. The company's credentials include certification as LEED Accredited Professionals, Certified Energy Managers, Commissioning Process Management Professionals, Certified Commissioning Providers and Qualified Commissioning Providers. In recent years, the company has made sustainable design and energy conservation a main focus.
In Westchester County, OLA Consulting Engineers has worked on projects for Pace University, Manhattanville College, Swiss Re, Jacob Burns Film Center, PepsiCo, Westchester Country Club, White Plains Public Library, LeChase/C.W. Brown, White Plains Hospital, Pleasantville High School, Chappaqua School District, White Plains Housing Authority and Cross County Shopping Center. It is currently providing engineering services for Lennar Corp. on its $275 million mixed-use complex to be built in White Plains.
OLA Consulting Engineers has recently won multiple awards for the engineering involved in an Energy Use Reduction Program for the Stone Barns Center for Food & Agriculture in Pocantico Hills. As energy manager for the 80-acre farm and community center, OLA performed a comprehensive sustainability master plan to create a net zero energy campus through a series of energy reduction and onsite energy generation projects over a twenty year timeframe to align building operations with Stone Barns' mission to create a healthy and sustainable food system. The project was awarded the Engineering Project of the Year by the Westchester/Putnam Chapter of the National Society of Professional Engineers (NSPE). The project will also receive a Platinum Award for Energy Engineering from New York Chapter of the American Council of Engineering Companies (ACEC) at its 50th Annual Engineering Excellence Awards Gala on April 1.
OLA was part of the design team led by nARCHITECTS that won an AIA NYC Merit Award for A/D/O, a design space in Greenpoint, Brooklyn that provides a groundbreaking new kind of space for designers. Founded by MINI as part of the company's own design practice and continued exploration of innovations that improve urban life, A/D/O will provide a new kind of platform for designers, aiming to foster a broader conversation across and beyond disciplines. For more information visit www.olace.com