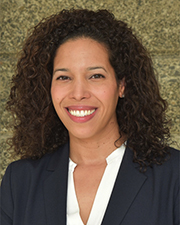 Mineola, NY According to Nassau County executive Laura Curran, the Nassau County Industrial Development Agency (IDA) has appointed Danielle Oglesby as The Agency's deputy executive director.
Oglesby, of Glen Head, has been chief operating officer at the LIU Global Institute at LIU Post in Brookville, which brings world and national leaders to the campus.
Prior to joining LIU, Oglesby was a commissioner at the village of Hempstead Community Development Agency from 2014-2017. Previously, she was a program manager for Babylon Town, a Nassau County planner and a Brownfield project manager for the Glen Cove Community Development Agency.
"Danielle Oglesby brings to The Agency an extraordinary background and experience in economic development and job growth," said Currant.
IDA chairman Richard Kessel said, "As we look to grow jobs and work closely with the business community, Danielle will be on the front line in reaching out to the business community and leading our efforts to retain, expand and grow businesses in Nassau. She will be a valued member of the new IDA team."
The IDA approved the appointment at its Nov. 8 meeting.
The new deputy executive director has a BA in urban planning from the University at Albany and a master's degree in urban planning from Hunter College.