Brooklyn, NY The CPEX office investment sales team has sold a three-story medical office building in Midwood. The 5,760 s/f office building sold for $2.8 million, or $486 per s/f. As reported by the Commercial Observer in March 2017, Midwood has become home to an influx of commercial office buildings, with its growing population and access to public transit.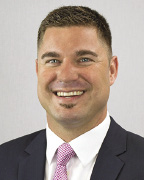 Located on Coney Island Ave.and Ave. R, the building consists of three units for office or medical use, totaling 5,760 s/f. The property also features five parking spaces on site. The building was partially occupied.
"We were able to locate the right end-user looking to expand an existing practice in the growing Midwood market," said Rich Novak, managing director of CPEX's office sales team. "With high exposure and on-site parking, this corner location made perfect sense for them to acquire."
CPEX's office sales team, consisting of Novak and associates Gina Damond and Nicholas Anderson, represented the seller.
Named one of 2015's Fastest Growing Companies by Real Estate Forum magazine, CPEX provides a full range of services for both real estate and business owners through an innovative operating platform and entrepreneurial culture. CPEX takes a team-based approach in which each of their skilled teams focuses on one particular property type to become the preeminent specialists that know their specific market inside and out.