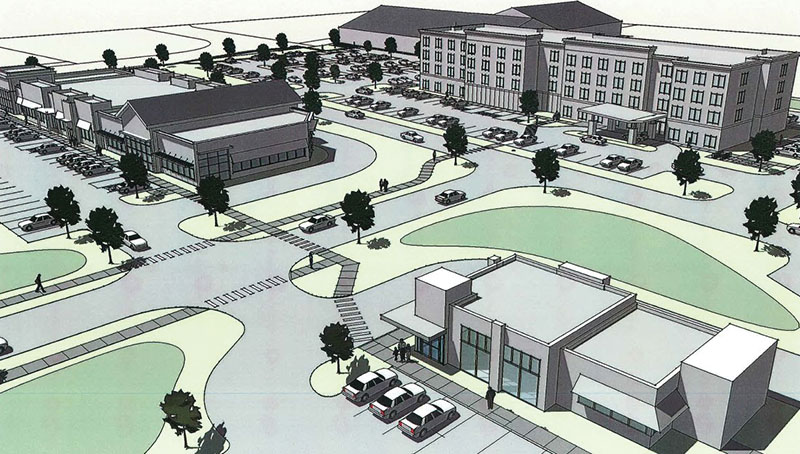 Albany, NY According to Capitalize Albany Corp., Mukura Inc. plans to build a new $13.3 million hotel at 351 Southern Blvd., complementing 351 Diamond Development, LLC's $10 million Mt. Hope Commons development, currently under construction at the 9W site.
Made possible with support from the City of Albany Industrial Development Agency (IDA), Mukura Inc. plans to begin constructing a 60,000 s/f, four story Four Points by Sheraton hotel this month. The project will take the vacant 1.8-acre parcel and create 106 hotel rooms with an indoor pool, fitness room, a bar and lounge. The project will create 25 permanent jobs, and 100 construction jobs.
In total between both projects, more than $23 million will be invested to redevelop the vacant Howard Johnson's site. Mt. Hope Commons site work started in November, the $10 million project at 351 Southern Blvd. is under way. This investment is expected to create 60 jobs (30 construction and 30 permanent) and provide new neighborhood amenities. A City of Albany IDA supported project, portions of this project will have direct public infrastructure benefits.
A new traffic light with a left hand turn signal will be installed to create a safer intersection for traffic and pedestrians. Sidewalks will be constructed along Rte. 9W and Mount Hope Dr. along the project's perimeter. Two CDTA bus stops will be installed, enhancing bus transit access. The renovated properties will include retail tenants such as Sonic, fitness center, the Four Points by Sheraton hotel, and other amenities.