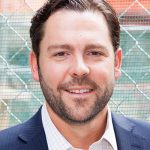 Peter Morandi, Eastman Cooke
Hempstead, NY Eastman Cooke Construction CEO Peter Morandi will be honored at ACDS' Annual Golf Classic on Thursday, May 11th at Hempstead Golf & Country Club.
Morandi, a distinguished member of the nonprofit agency's board of directors, will be recognized for his longtime commitment to charitable causes across the New York area. Since being appointed to the ACDS board, Morandi has provided valuable insight and expertise on safety matters and construction initiatives to ensure the best possible care for the hundreds of developmentally disabled children and adults The Agency serves.
As CEO of Eastman Cooke, Morandi has cultivated an award-winning corporate culture and has grown the company's revenue significantly, making Eastman Cooke one of the leading general contracting and construction management firms in New York City. Major clients include Hospital for Special Surgery, NYU Langone, and Audi of Queens.
"I'm thrilled to be recognized by ACDS and contribute to a cause that has transformed the lives of many families across Long Island," Morandi said. "Thanks to executive director Michael Smith and his outstanding staff for this great honor. I look forward to continued collaboration with my fellow Board members to spread The Agency's mission and broaden vital services for individuals with special needs."