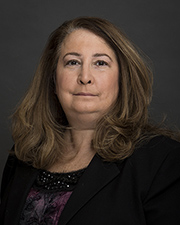 New York, NY CNY Group has appointed Ruth Mitteldorf, CPA as chief financial officer. With 25 years of experience working in senior financial positions for real estate companies, in this newly-created position Mitteldorf will be reporting to and working with CNY president Ken Colao. Among her multiple responsibilities are: banking relations, finance, executive oversight of accounting and assisting in the development of the next level of reporting and analytics necessary to support CNY's growth.
"We are very excited to bring Ruth aboard to oversee our financial affairs as we expand our business," said Colao, who noted that CNY is currently working on behalf of some of the city's most prestigious private developers. "Ruth is a consummate professional with a long, noteworthy track record in contributing to the financial success of her former employers. Her depth of experience in real estate, corporate finance, accounting and compliance will add value to our operations and help with our growth strategy."
Immediately prior to joining CNY, Ms. Mitteldorf was Principal at RMG Financial Solutions, where she provided financial advice and consulting services to real estate organizations. Before that, she was CFO and Treasurer of DTH Capital, where she oversaw accounting and reporting processes for a portfolio of 2.6 million square feet of historic residential real estate holdings. Earlier, over the course of 14 years with Kimco Realty Corp., one of North America's largest publicly traded REITs, Ms. Mitteldorf rose to the title of VP Joint Venture Accounting and Reporting where she advised and oversaw 25 joint ventures totaling $13 billion in real estate assets under management in the United States and Canada. Also during her tenure at Kimco, Ms. Mitteldorf oversaw all financial matters for Kimco's merchant building subsidiary handling over $1 billion in real estate development properties from acquisition to sale. Prior to Kimco, she was Senior Manager in Ernst & Young's real estate group, where her many duties included oversight of audit and advisory clients, planning and execution of engagements, and addressing complex accounting issues.
Mitteldorf's professional memberships include Treasurer, Association of Women in Accountants in Real Estate (AWA+RE); Member, American Institute of Certified Public Accountants; and Member, New York State Society of Certified Public Accountants.
She earned a BS degree in Accounting from State University of New York at Albany.