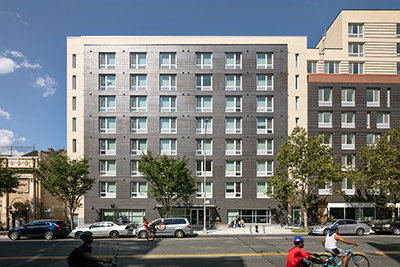 Bronx, NY The first residents have moved into Melrose Commons Permanent Supportive Housing for Veterans, located in the northern portion of the Melrose Commons urban renewal area, according to Magnus Magnusson, AIA, founding principal of Magnusson Architecture and Planning PC (MAP).
In partnership with The Bridge, the new 58-unit supportive housing building, located at 425 East 161st St., was designed for low-income tenants with mental illness and chronic homelessness, with placement preference for veterans. The building was designed at the same time as the adjacent family-housing building Elton Crossing; the two appear conjoined, although they are separate developments.
Melrose Commons Permanent Supportive Housing for Veterans offers 58 studio units, plus a community room with kitchen, computer lab, laundry room, and outdoor recreational space. It contains on-site case management services for the tenants through The Bridge, and 24/7 front desk coverage.
It's a special moment for MAP and for Magnusson, whose first major work in residential design began at Melrose Commons 37 years ago, when he started working with community activists Nos Quedamos to replace the originally planned urban renewal project there with affordable housing that would not displace the residents.
"The buildings' design and orientation with the Elton Crossing building creates an enclosed courtyard with a series of terraced gardens and an outdoor deck, forming a central and unifying space between and behind the two buildings," notes Christopher Jones, Associate Principal at MAP and project manager for the supportive housing project. "Being off the street will help residents to relax, grill and escape the everyday pressures of the city."
Magnusson Architecture and Planning is an interdisciplinary design firm committed to community revitalization through high-performance design and planning. For over 30 years MAP has been recognized as an industry leader in the design of multi-family housing, sustainable community development and urban planning.
Please be sure to credit my client, Magnusson Architecture and Planning, as the architects and planners on the project.