Shown (from left) are: Kyle Strober, Elisa Picca, LIREG co-president Michael Blaymore; David Kapell, LIREG co-president Richard Herzbach, LIREG breakfast co-chairman Scott Burman and Michael Balboni.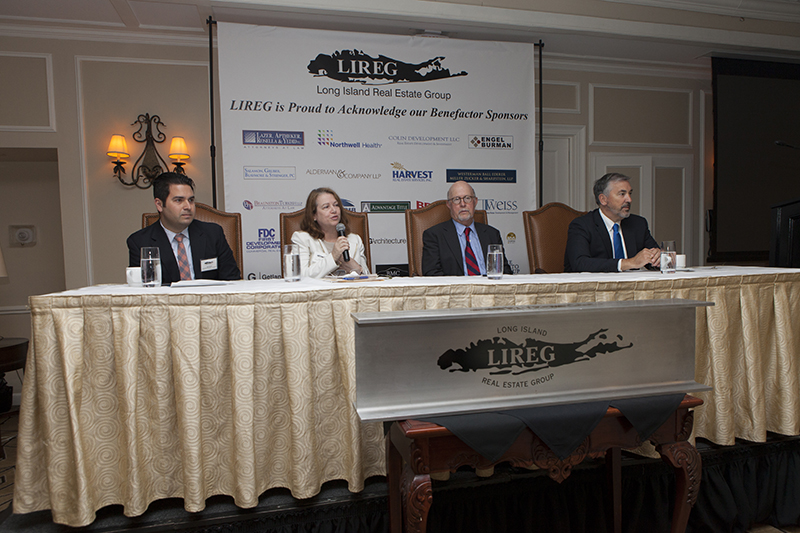 Old Westbury, NY A top Long Island Rail Road (LIRR) official told a breakfast meeting of the Long Island Real Estate Group (LIREG) that the country's busiest commuter line must go forward with a $2 billion third track expansion plan despite costly derailments, delays and other major recent problems at Penn Station.
Elisa Picca, the railroad's executive vice president was a member of a panel that discussed the project and implications at a LIREG meeting at the Old Westbury Country Club. Other panelists included David Kapell, former Greenport mayor and now executive director of the Right Track for Long Island Coalition, a supporter of the plan; Kyle Strober, executive director of the Association for a Better Long Island, and Michael Balboni, a former New York State senator, and now president of a consulting firm, Redland Strategies Inc.
Asked about recent derailments at Penn Station, track closings and delays in the last few weeks. Picca said, "We have a lot of old infrastructure. There's a lot of places [on the railroad] that need intervention. The tracks and the signals need routine maintenance. But we see this [third track project] as a re-birth of the railroad."
Panelists voiced strong support for the project, which calls for building a 9.8 mile third track on the Main Line within the LIRR's existing property, between Floral Park and Hicksville.
Picca said the LIRR hopes to award construction contracts by the end of this year. The plan calls also for eliminating all grade crossings in the 9.8 mile stretch. Construction is estimated to take between three and four years, she said.
Picca said the LIRR hopes to get funding sources in place soon. The LIRR has been holding public hearings on the plan and has launched a publicity campaign to promote it.
The third track is aimed at providing more reliable LIRR service, creating jobs, growing the Long Island economy and keeping young people in Nassau and Suffolk.
The LIRR's five branches "are running on 19th century architecture," Kapelll said. "It's not an overstatement to say this is the most important project for Long Island in decades."
Strober called the project crucial, adding that "it will maintain a young workforce on Long Island. I'm the youngest person on this panel, and I can tell you, from my generation, we need this."
Balboni, a republican, praised gov. Andrew Cuomo, a democrat, as "a visionary" for supporting the project. "I think this is going to be enormous for Long Island," Balboni said.
LIREG, formed in 2004 to encourage networking among Long Island real estate developers, owners and allied trades and to raise funds for charitable real estate-related projects on Long Island, has almost r00 members. Since its founding, LIREG has contributed more than $1 million to numerous real estate-related projects undertaken by charities on Long Island. For more information, visit www.LIREG.org