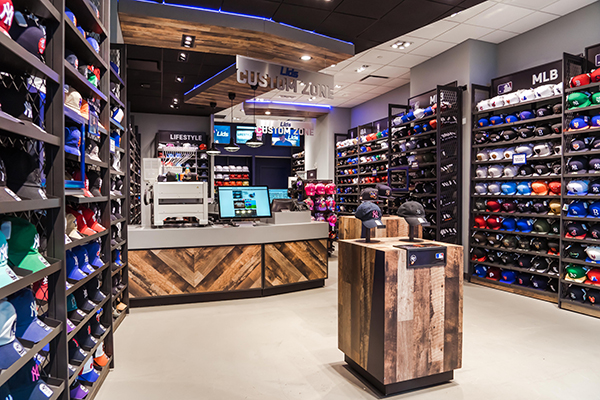 MANHATTAN, NY Leading omni-channel sports licensed retailer LIDS Sports Group will begin the national rollout of a new LIDS store concept at its Times Sq. flagship store. The completely redesigned 1,235 s/f store embodies the new shopping experience and was unveiled on June 8, with additional locations to follow nationwide in 2018.
LIDS' new design concept appeals to the brand's core customers that reside at the intersection of fan and fashion. The layout is focused on creating a clear, comprehensive path throughout the store while emphasizing LIDS' key differentiators, such as the country's largest headwear offering and product personalization through custom embroidery. Chute Gerdeman is responsible for the design.
"Headwear is the heart of our business and our focus on providing shoppers the largest and most on-trend selection is what sets LIDS stores apart," said David Baxter, president and CEO of LIDS Sports Group.
"Investing in a store design that represents the next era of LIDS is the next step in our mission to evolve the customer experience and improve our omni-channel presence overall."
Within the modernized space, pedestal fixtures serve as the initial focal point across the lease line to individually showcase headwear styles that are exclusive to LIDS and represent recently launched products from partners like New Era, '47 and Nike. LIDS has made a conscious effort to pull product away from the wall and towards customers to interject a new energy while creating a more engaging shopping experience. New digital messaging towers and screens have also been added throughout the store to better communicate fresh product styles, loyalty program perks and in-store promotions.
While LIDS Sports Group has long offered custom embroidery in the majority of its LIDS locations, the updated store introduces a designated "Custom Zone" that serves as a central destination for shoppers, highlighting the brand's unique ability to personalize headwear. Now connected to the centralized cash wrap, the "Custom Zone" features touch-screen technology where customers can browse a digital library of customization options.
The embroidery machine itself is highly visible for customers to watch the process unfold as the in-store specialist creates a shopper's custom design digitally and deploys the embroidery machine to do the rest. The EmbroidiGraph option is exclusive to LIDSand allows stores to embroider autographs of current professional athletes on headwear. Shoppers can also request the embroidery of names, numbers, quotes, phrases, images and more to truly make the headwear their own. In support of its omni-channel business, LIDS has also included a feature wall within the cash wrap to display online orders that have been pulled, making it seamless for customers to pick up and check out.