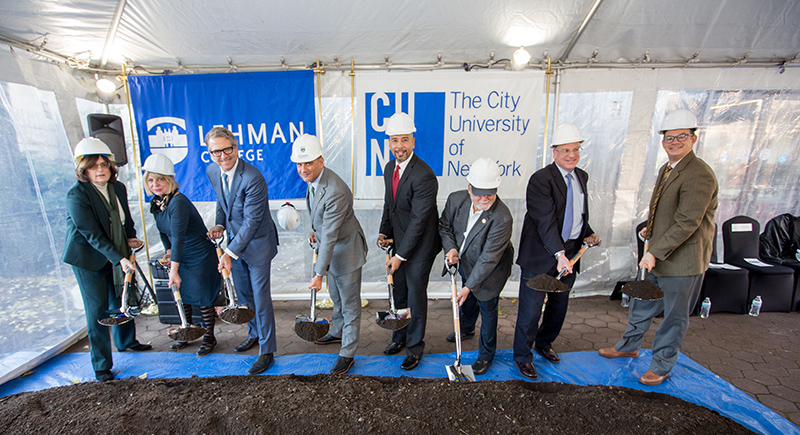 Bronx, NY Lehman College of The City of New York hosted a ceremonial groundbreaking, marking the start of a $15.4 million addition and renovation to the Lehman Center for the Performing Arts. The Center is located on Lehman's campus. The project team includes: Architect, Michielli + Wyetzner Architects; construction manager, TDX Construction Corp.; and general contractor, DMD Contracting.
James Milliken, chancellor, The City University of New York; Judith Bergtraum, vice chancellor for facilities planning, construction and management, The City University of New York; José Luis Cruz, Lehman College president; Ruben Diaz Jr., Bronx borough president; José Rivera, member, NYS assembly; Andrew Cohen, member, NYC council; Jeffrey Dinowitz, member, NYS assembly and Eva Bornstein, executive director, Lehman Center for the Performing Arts, were equipped with shovels and on hand for the ceremony. Andrea Rockower, vice chair, board of directors, Lehman Center for the Performing Arts, served as emcee.
Construction will add 5,600 s/f that will allow for an expanded and stunning glass box office, new administrative offices and restroom facilities on the first and mezzanine floors, as well as an elevator. The addition will also provide separate heating and cooling systems so that the main concert hall can be maintained at energy-saving temperatures when not in use.
The project will also modify the existing lobby and interior in compliance with ADA standards. Ramps and lifts at key locations will be installed, making all areas accessible. Wheelchair accessible viewing positions will be constructed at many locations within the theatre.
The Center is one of New York's finest and most exciting not-for-profit performing arts centers and the largest venue of its kind in the Bronx, with 2,310 seats in the concert hall.
Funding for the project was provided by the Office of the Governor, New York State Legislature, Bronx delegation of the New York City Council and the Office of the Bronx Borough President. Construction is scheduled to begin immediately. The Center will continue operations throughout the project as work will be scheduled when the space is not in use.
Cruz said, "Lehman is proud of our prestigious center for the arts. For years the space has served as a venue for some of the world's best known performing artists. I am thrilled that one of the borough's greatest treasures will undergo this important makeover and thank all who have provided funding for this project. Because of their generosity, we will have a facility that will take the center well into the future."