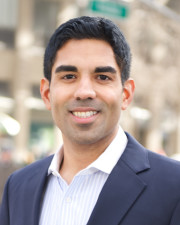 New York, NY HKS Real Estate Advisors has secured a $55 million loan from M&T Bank for Dalan Management and Elion Partners who teamed up to purchase a block of eight adjacent apartment buildings called the "Chelsea Collection" for $83 million from the Brodsky Organization. The portfolio is comprised of 102 multifamily units and 10 ground floor retail units with 115,046 in total s/f, at addresses running from 102-116 8th Ave., known as the 8th Ave. Chelsea Collection (The Chelsea Collection). The full-block property is located in Manhattan's desirable Chelsea neighborhood, directly across from Google's New York Headquarters.
"It's been a busy summer and fall for Dalan and Elion, with their second purchase. Its location and sponsorship drove a competitive bidding proces in which M&T stepped up, to win it," said HKS' Ayush Kapahi, who negotiated the financing. "All around, a great deal for everyone to execute on."
This marks Dalan and Elion's second deal within a quarter. In June, the partnership completed a $66 million acquisition of a similar mixed-use multifamily-retail property, which HKS also financed with a $45.5 million loan from People's United Bank.