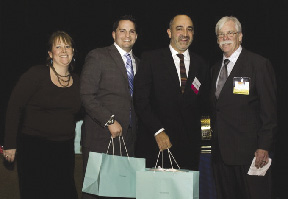 Shown (from left) are: Ellen Hains, awards committee co-chair; Chris Martorana, IA; Julio Braga, IA; and Michael Sweeney, awards committee presenter
The Greater New York Chapter of the International Facility Management Association (IFMA) presented its 2008 Award for Excellence for the Design and Construction of a New Facility to IA Interior Architects. Presented at the chapter's annual awards dinner held on January 22, this award is in recognition of the planning and design of IA's own office, located at 257 Park Ave. South.
"The jury noticed an incredible amount of attention paid to every detail in this bright, open space. Everything was carefully planned resulting in a flexible, workable design office," said Michael Sweeney of Sweeney & Associates, who presented the award.
"Our design promotes collaboration and communicates the IA brand through a well-crafted and functional environment. We are so pleased to receive this award, and we look forward to our continued effort to find solutions for our clients that meld high-quality design and performance," said Julio Braga, design principal of IA's New York office.
"It is an honor to have our new office recognized by a group dedicated to excellence in facility design, planning, and management," said Christopher Blackadder, principal.
Key features of the 8,000 s/f facility include an open office plan, three conference rooms (one large and two small), a library, and two small telephone rooms.
The office is located on the eighth floor of a 1912 building in Manhattan's Gramercy Park neighborhood. IA relocated from its midtown location in August of 2007.