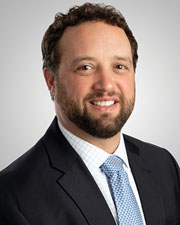 East Syracuse, NY D&B Engineers and Architects, P.C. (D&B) has welcomed Matthew Hoskins, P.G. as a senior geologist and manager. In this role, he will oversee and manage the firm's environmental investigation, remediation and compliance projects throughout Central New York.
A licensed professional geologist in New York and Pennsylvania, Hoskins joins the firm with more than 15 years' experience working on an array of environmental and geoscience assignments across the country.
His professional expertise includes leading complex site remediation projects, health and safety management and training, and environmental compliance.
"Joining D&B provides me with an outstanding opportunity to work with a multidisciplinary team of environmental and engineering professionals," Hoskins said. "I look forward to utilizing the firm's resources to help grow D&B's services in the Central New York region."
Hoskins holds an M.S. in geology from the University of Wyoming and a B.S. in geology from Boston College. He remains an active member of numerous industry and professional organizations, including the Central New York Association of Professional Geologists, the New York State Council of Professional Geologists, and the Geological Society of America.
"We are excited to add [Hoskins'] diverse skillset to our team," said Richard Walka, senior vice president in charge of D&B's environmental services. "His capabilities will allow D&B to continue delivering projects that improve the physical environment and quality of life in communities across the region."