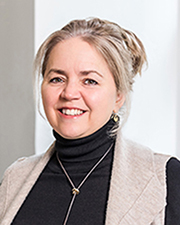 NEW YORK, NY Jennifer Brayer, AIA, LEED AP, has joined HOK as a practice leader for interiors based in the New York studio. With 30 years of experience, she is a recognized leader in the design and development of interiors for the corporate and higher education markets.
She will lead design teams on interior projects for a range of clients including media companies, law firms, financial services businesses, technology and professional services companies.
Her strong interpersonal and operations skills along with her proactive approach to project and client management will assist HOK in developing functional and creative interiors tailored to the needs of all building occupants. .
"We are so excited to have Jennifer join HOK as practice leader for interiors. She brings impressive prior experience to our practice and will help mentor our young professionals to continue delivering exceptional work," said Tom Polucci, AIA, LEED AP, director of interior design based in HOK's New York office. "I am thrilled to be collaborating with Jennifer as we focus on expanding and strengthening our interiors practice in the region."
Brayer was previously a partner at the design firm HLW. Before that, she was a project manager at KPFIA. Her past clients include the Dechert law firm, the Guggenheim Museum, Hewlett-Packard, JPMorgan Chase, MTV Networks/Nickelodeon, the National Basketball Association, Prada and Fordham University.
Brayer is a registered architect in New York and a LEED Accredited Professional. Her work has been published in a number of industry-leading publications, including Interior Design, Architectural Record, Business Week and The New York Times. Brayer earned a Bachelor of Architecture degree from Syracuse University.
HOK's recent interiors projects in New York include White & Case Offices; Shiseido Headquarters; GroupM Headquarters at 3 World Trade Center; RSM New York Headquarters; and the Viacom VH1 Office.
With offices around the globe, HOK designs buildings and spaces that respond to the needs of people and the environment. HOK designers are rooted in technical excellence, driven by imagination and focused on a solitary goal: to deliver solutions that inspire clients and communities.