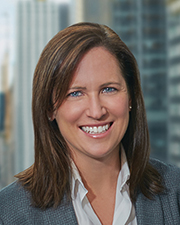 New York, NY According to Hunt Real Estate Capital, Tyler Griffin joined the firm as its new COO. She will be based in the firm's New York headquarters and will report to James Flynn, president and CIO of Hunt Real Estate Capital.
"Tyler is an experienced professional with a solid track record for successfully managing the ongoing operations at financial institutions," said Flynn. "She also has an extensive background in financial services, with outstanding underwriting and FHA experience."
Prior to Hunt, she was COO at Dwight Capital, where she established the firm as an FHA/MAP lender with GNMA servicing capabilities. During her tenure at Dwight, she was responsible for a servicing portfolio that exceeded $3 billion and more than $1.2 billion in annual loan production.
Before Dwight Capital, Griffin was with Capital One Multifamily Finance as Senior Director, Head of FHA Programs.
Earlier in her career, she held key roles at Beech Street Capital, where she started the FHA program, and Metropolitan Funding Corporation.
"We are excited that Tyler has joined the team at Hunt Real Estate Capital. We look forward to her leadership as the firm continues to grow nationally. Her expertise in multifamily commercial real estate will allow her to identify, implement, and manage best-in-class business operations across all lending products. This is another huge win for Hunt," said Flynn.
Griffin graduated Magna Cum Laude with her Bachelor of Arts in Economics & Financial Economics from Vanderbilt University. While there, she was an All-American athlete and has since been inducted into the Vanderbilt Hall of Fame.