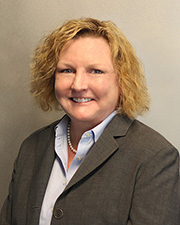 New York, NY According to Hunt Mortgage Group, Megan Goodfellow has re-joined the firm as chief credit officer for commercial real estate. Her focus will be on Hunt's balance sheet proprietary lending group, a program that launched three years ago. She will be based in the New York office and will report to Jim Flynn, president and chief investment officer.
"Megan has more than 30 years of experience working in various aspects of the commercial real estate industry," said Flynn. "She is a veteran industry executive who spent eight years with Hunt's predecessor firm, Centerline Capital Group as credit officer for various high-yield debt and equity funds and structured investment vehicles. She joined Centerline in 2007 and participated in the restructuring and special servicing of a $2.5 billion multifamily bond portfolio."
Prior to rejoining Hunt Mortgage Group, Goodfellow was chief credit officer at RealtyMogul.com where she was a member of the executive and investment committees and oversaw underwriting, closing and asset management for debt, sub-debt and equity investments originated by the RealtyMogul.com platform. Before her time at Centerline, Goodfellow was with JP Morgan Chase where she was the credit officer and head of underwriting for the bank's CMBS division. Earlier in her career, she held senior positions at American General (an AIG company) and Fidelity Investments.
"The dynamic growth we have been experiencing at Hunt Mortgage Group over the past two years has been significant," added Michael Becktel, Managing Director in charge of Proprietary Lending at Hunt Mortgage Group. "We are actively working to build our platform nationwide and have launched a number of new products to accelerate our balance sheet lending business. In the first six months of 2017, we opened five new offices and have grown our staff to 198 professionals. Megan's return to Hunt Mortgage Group signals her confidence in our expanded platform and the outstanding additions we have made to the team across the country. We are confident she will play a pivotal role in helping us achieve our growth goals."
Goodfellow earned a Masters of Business Administration from the University of Houston, and a Bachelor of Arts in Social Science, with a minor in Business Administration, from St. Bonaventure University. She is a member of the CFA Institute and is a Chartered Financial Analyst.