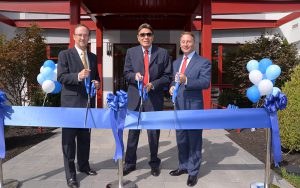 Shown (from left) are: Hastings-on-Hudson village mayor
Peter Swiderski; Martin Ginsburg, principal of Ginsburg Development Companies; and Westchester County executive Robert Astorino.
Hastings-On-Hudson, NY  Ginsburg Development Companies continues to expand its GDC Rentals brand in Westchester County with the grand opening of The Lofts on Saw Mill River, a $34.9 million rental  development.
County and village officials joined with GDC executives on September 26th for a ribbon-cutting ceremony at the new development located at 419 Saw Mill River Rd. (Rte. 9A). The Lofts on Saw Mill River features 66 loft-style rental apartments in three buildings. Two three-story buildings each include 27 market-rate units and one two-story building includes 12 affordable workforce-housing units. The 12 affordable units count towards the affordable units mandated by the County's affordable housing settlement with the federal government.
Monthly rentals for the market rate apartments range from $3,245 for a large one-bedroom unit (950 s/f) to $4,995 for a large three-bedroom unit (1,656 s/f). The affordable units range from $874 for a studio to $1,484 for a three-bedroom unit. The application process for the affordable units closed in June when the Westchester-based Housing Action Council conducted a lottery to select qualified tenants.
 "Today's grand opening of The Lofts on Saw Mill River completes a journey that began more than a decade ago when we first acquired this site. What was once a former industrial parking lot has now been transformed into a one-of-a-kind community of contemporary loft-style rental apartments as well as much-needed affordable workforce housing," said Martin Ginsburg, principal of GDC. "We are particularly pleased to dedicate to the Village 1.8 acres of open space to become a beautiful park that includes a pedestrian bridge to the South County Trailway, which runs by our property," he added.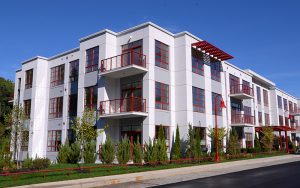 419 Saw Mill River Road - Hastings-On-Hudson, NY
"In addition to creating 100 construction jobs, The Lofts at Saw Mill River is adding to the vitality of Westchester's economy with high quality rental apartments, including affordable units," said Westchester County Executive Robert Astorino. "Westchester County and its Industrial Development Agency are proud to be partnering with Ginsburg Development Companies on this important project."
GDC received financial incentives for the development from the Westchester County Industrial Development Agency (IDA). The project also received financial support from the County for land acquisition and infrastructure.
"Ginsburg's high-quality developments are always an asset to a community – and Hastings will benefit both from the addition of these new high-end rentals as well as the provision of a dozen units at affordable rates," said Hastings-on-Hudson Village mayor Peter Swiderski.
The Lofts on Saw Mill River is GDC's second new luxury rental development to open in less than four months. In June, GDC opened Harbor Square, a 188-unit luxury rental development on the Ossining waterfront. Harbor Square is already more than 50 percent leased. GDC is nearing completion of River Tides at Greystone, a 330-unit luxury rental complex overlooking the Hudson River in Yonkers. River Tides at Greystone is scheduled to begin leasing in Spring 2017. Earlier this month, GDC broke ground on 1177@Greystone, a new 55-unit luxury rental apartment building located on Warburton Avenue in Yonkers, one block north of River Tides at Greystone.
"The demand of luxury rentals in the Westchester market continues to grow with millennials as well as empty-nesters looking to live in a community with resort-style amenities and services as well as easy access to mass transit. The level of high quality finishes and design featured in our apartments is unlike anything being offered in the region's rental market," said Ginsburg.
 GDC will begin showing The Lofts to the general public this Saturday and Sunday, October 1st and 2nd at a Grand Opening Open House to be held between 12 noon and 4 p.m. each day.