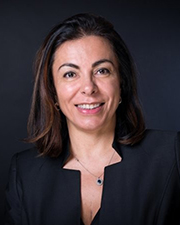 Manhattan, NY Denihan Hospitality, a full-service hospitality company focusing on developing, owning, managing and franchising lifestyle hotels, has promoted Gul Goknar Turkmenoglu to regional vice president of operations. Goknar Turkmenoglu will also continue to serve as general manager of The Benjamin, the company's 209-room hotel located in Midtown Manhattan.
In her new position, Goknar Turkmenoglu will oversee Denihan's growing operations team including all general managers. She is also responsible for implementing proven strategies and best practices to further elevate the guest experience, improve operational efficiency and increase profitability across the company's brand portfolio. A native of Turkey, she has 25 years of luxury and lifestyle management experience at both domestic and international hotels.
"Gul has proven to be an incredibly valuable asset to the company, and this promotion is commensurate with her contributions," said Vera Manoukian, president of Denihan. "Not only has she enhanced The Benjamin's already strong operating and financial metrics, she has helped institute operational improvements across our portfolio to drive profitability, efficiency and guest engagement. Gul adds depth to our strong leadership bench as we prepare for an important period of growth."
Goknar Turkmenoglu's promotion continues the strategic expansion of Denihan's well-rounded senior team. In February, the company appointed seasoned hospitality executives John Chan as senior vice president of development and Garine Ferejian Mayo as senior vice president of Market strategy and revenue management. The depth of institutional knowledge possessed by these individuals will be instrumental in advancing the Company's ambitious plan to grow its fee-based services business.
Goknar Turkmenoglu said, "I am very excited to expand my responsibilities with Denihan and to join what has become one of the most diverse and impressive leadership teams in the industry. We all share the same goal – to utilize our unique skills, knowledge and perspectives to drive the business forward in a way that fuels sustained growth and profitability."
Prior to joining Denihan in 2016 as general manager of The Benjamin, Goknar Turkmenoglu served as assistant general manager of the Hudson New York. Prior to that, she was Assistant General Manager of The Lexington Hotel NYC and Hotel Manager for ONE UN New York. In 2006, Ms. Goknar Turkmenoglu relocated from Egypt to join the leadership team at the Waldorf Astoria New York where she spent over six years holding several management roles. She holds a Bachelor of Arts in Tourism and Management from Cukurova University and a Master of Business Administration from New York University Leonard N. Stern School of Business.