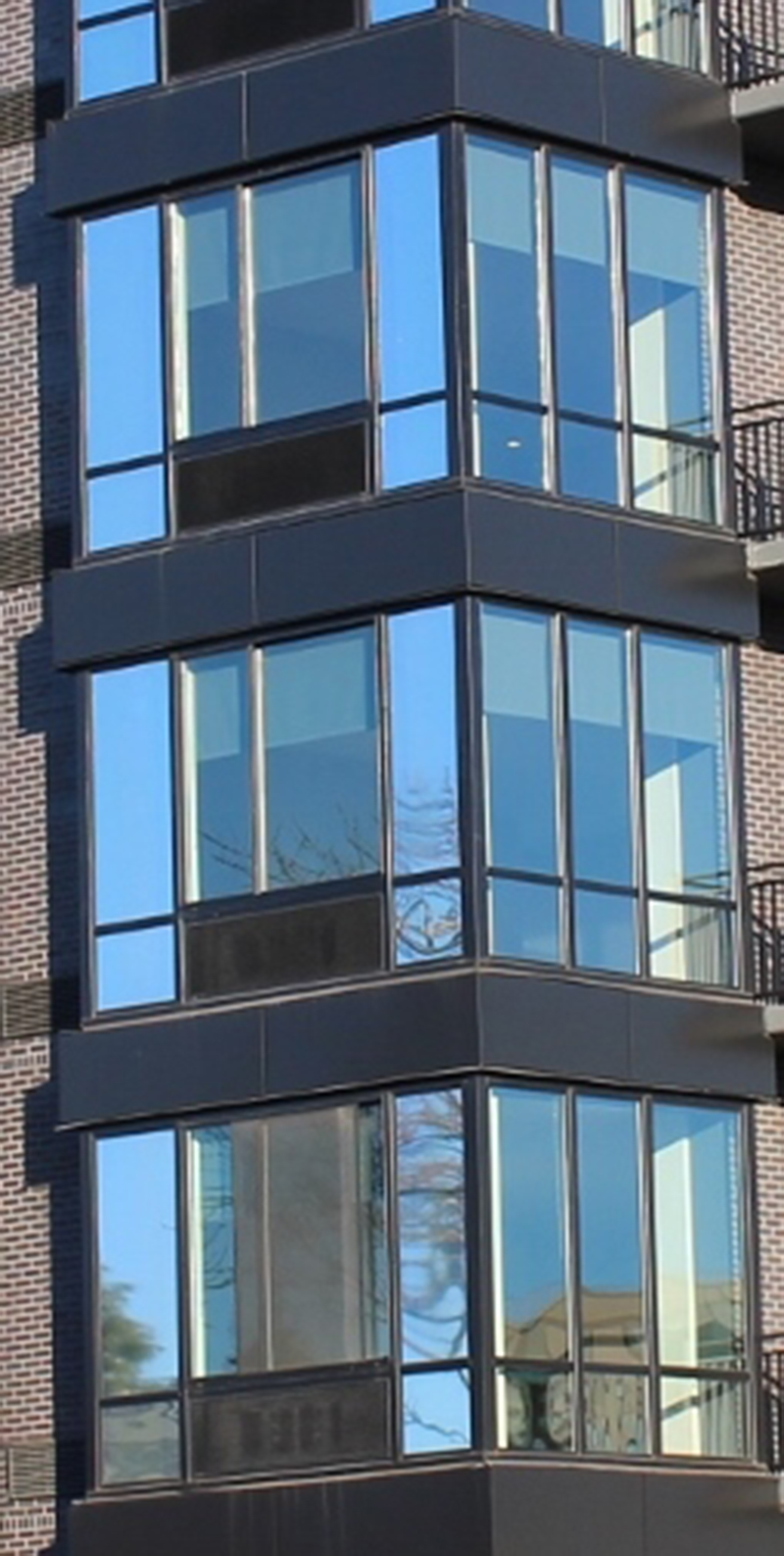 Hackensack, NJ Crystal Window & Door Systems, the national manufacturer, has supplied a new rental apartment building – The Vue – with 883 energy efficient windows and doors. Located at 295 Polifly Rd., The Vue is a modern design seven-story mid-rise with views from all of its 80 one and two-bedroom apartments.
The project's floor to ceiling glass wall views were created by combining several Crystal aluminum products of varying sizes in a variety of configurations. The aluminum window wall systems used the Crystal Series 5600 two and three-lite sliders, Series 5100 fixed windows, Series 1400 swing terrace doors, and Series 1240 sliding patio doors. The windows and doors were combined using a variety of Crystal mullion systems, allowing the window wall to span building openings up to 212" in width and 96" in height.
"New residential projects such as The Vue are now frequently designed with expansive window walls, and Crystal architectural products, with clean contemporary styling, are perfect for this application," said Blaise Benevenga, New Jersey-New England regional sales manager. "We are supplying more and more window wall systems for new properties, and our numerous mullion options speed and simplify installation."
The project called for 228 architectural rated Crystal Series 5600 aluminum two and three-lite sliding windows. These strong durable 3-¼" frame depth sliders boast 0.093" wall thickness sill extrusions, 1" insulating glass units (IGUs), continuous sash clip lock pull rails, stainless-steel dual sash rollers and a stainless steel-reinforced roller track. The Series 5600 has an outstanding HS-AW40 (AW50 in 86" x 68" test size) AAMA rating. The sliding windows were equipped with 4" sash stops for safety.
The Crystal Series 5100 was numerically the major product used in the The Vue's construction, with 574 units supplied. This heavy-duty 3-¼" frame depth aluminum window is AAMA F-AW100 rated with a 1" insulating glass pocket. The Series 5100 fixed picture window has a unique male/female frame mulling system reducing installation time and costs to combine window configurations without compromising overall integrity.
The Crystal doors for this project provide access to the apartment balconies. Sixty-five Crystal Series 1240 aluminum sliding patio doors were supplied for the project. The Series 1240 features a frame depth of 4-9⁄16", 1" IGU, heavy-duty adjustable dual tandem ball bearing rollers, heavy-duty latch handle and a locking screen. The Series 1240 sliding door is AAMA rated CW-PG40/LC-PG45.
The project also called for 16 heavy commercial Series 1400 aluminum swing terrace doors. The Series 1400 features a 3-¼" frame depth, heavy-duty 0.125" wall extrusions, 1" IGUs and an AAMA HGD-HC50 rating. For superior energy efficiency, the Series 1400 door uses an advanced insulating thermal strut, and for safety and security, an opening limit bar and multi-point lock system.
All the Crystal IGUs were specified with 3⁄16" thick glass lights, PPG/Vitro Solarban 60 low-E coating and argon gas filling for enhanced thermal performance. Tempered glass was used for all the swing and sliding doors, and where appropriate or required by code for the other windows.
Crystal also furnished 250 aluminum louvers for the project, sourced from Reliable Products of Geneva, AL for the apartment PTAC units. The louvers were installed in place of insulating glass in Crystal Series 5100 fixed windows to become part of the building window walls.
Besides the optional mullion systems, a number of other Crystal accessories were used to expedite and assure a quality installation. A special subsill using an insulating thermal strut system, receptors, and clip and snap trim combinations were some of the accessories that facilitated the window and door installations. All the Crystal windows, doors, and exposed installation accessories were finished in a durable AAMA 2604 special black color powder coat paint.
The Vue's construction general contractor and property owner is Petrone Building Corporation of North Bergen, NJ. The project was designed by architecture firm Virgona & Virgona Architects of Edgewater, NJ.