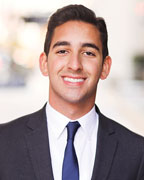 Manhattan, NY According to Adelaide Polsinelli and Ronda Rogovin, vice chairs of Compass Commercial, a technology-driven real estate platform, have hired Albert Sitt to complement their expanding investment sales division.
"Albert Sitt represents the next generation of talented brokers which makes him a perfect fit for Compass," said Polsinelli. "Sitt is energetic, self-motivated and driven. He is a testament to our commitment to developing young talent. We are building an outstanding team of talented brokers, and Sitt is a key component to our success."
"I am eager to hit the ground running at Compass," said Sitt. "And with highly-respected brokers Adelaide Polsinelli and Ronda Rogovin as mentors, deal-making opportunities will be limitless."
Prior to joining Compass, Sitt began his real estate career at Ackman-Ziff Capital Advisors establishing relationships with buyers and investors. He has also interned with the Real Estate Finance and Lending Group at law firm Kriss & Feuerstein LLP, Morgan Stanley and at the private real estate investment firm, Status Capital. Sitt studied at Baruch College and is fluent in Hebrew and Spanish.