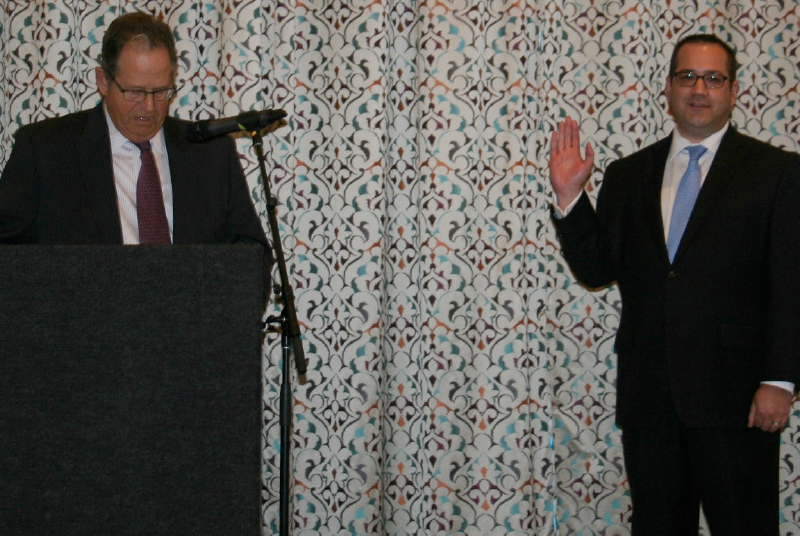 Shown above (from left) are: Chris Farrell of Vanguard Fine; Richard Ferro of Berkshire Hathaway Blake Commercial; guest speakers Peter West and Corey Bishop of Bishop West Real Estate
Schenectady, NY On Thursday, January 25th, 2018 the Commercial & Industrial Real Estate Brokers, Inc. (CIREB) installed Brett Baxt of The Howard Group as its 51st president in ceremonies held at the Rivers Resort and Casino.
Other 2018 officers installed: Felton McLaughlin of NAI Platform as immediate past president; Rudy Lynch of Carrow Real Estate Services as 2018 vice president; and Peter VanBortel of IKON Realty Group as secretary/treasurer. The 2018 directors are: Tyler Culberson of NAI Platform; Kristen Diesel of First Columbia; Chris Farrell of Vanguard Fine, LLC; John MacAffer of CBRE/Albany; Tim McGuire of Picotte Companies; Kyle Schoonmaker of Berkshire Hathaway Blake Commercial; and Jessica Richer of Hanna Commercial.
CIREB Marketing Sessions
CIREB holds its monthly marketing sessions on the first Thursday of each month and are free to all CIREB members. Guests interested in joining CIREB may attend these sessions at a cost of $15.00 per person.
Berkshire Hathaway Blake Commercial hosted the February Marketing Session at space they have available at 1418 5th Ave. in Troy.