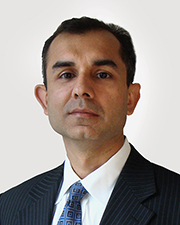 New York, NY Manish Chadha, a principal at architecture firm Ismael Leyva Architects, was selected as one of the honorees at the Society of Indo-American Engineers and Architects' (SIAEA) 37th Annual Gala on December 16th, 2017. Held at the Grand Hyatt Hotel, the event celebrated the best of the best in the building of resilient infrastructure.
"I am truly grateful to have been selected as an honoree by the Society of Indo-American Engineers and Architects," said Chadha. "It is wonderful to be acknowledged for my work by my peers and colleagues and to be able to celebrate the achievements of these other esteemed professionals who work to create a better built environment for current and future generations."
Chadha has 20 years of experience in architecture, working on a wide range of residential, commercial, mixed use, hospitality, and interior projects. With close to two decades at ILA as a firm design leader, he is responsible for the day-to-day progress of many notable New York City projects. Some of Chadha's notable projects include: 520 West 28th St., 196 Orchard St., 70 Vestry St., 15 Hudson Yards, 456 Washington St., The Abington House (500 West 30th St.), MiMA/Hotel (42nd & 10th Ave.), 100 Barclay, and One Central Park (Time Warner Center Residences).
"We are thrilled to see Manish recognized for his work by such a prestigious cultural and professional organization," said Ismael Leyva, president of Ismael Leyva Architects. "Manish has long been an integral member of our firm, and we are delighted to be able to celebrate this accomplishment with him."