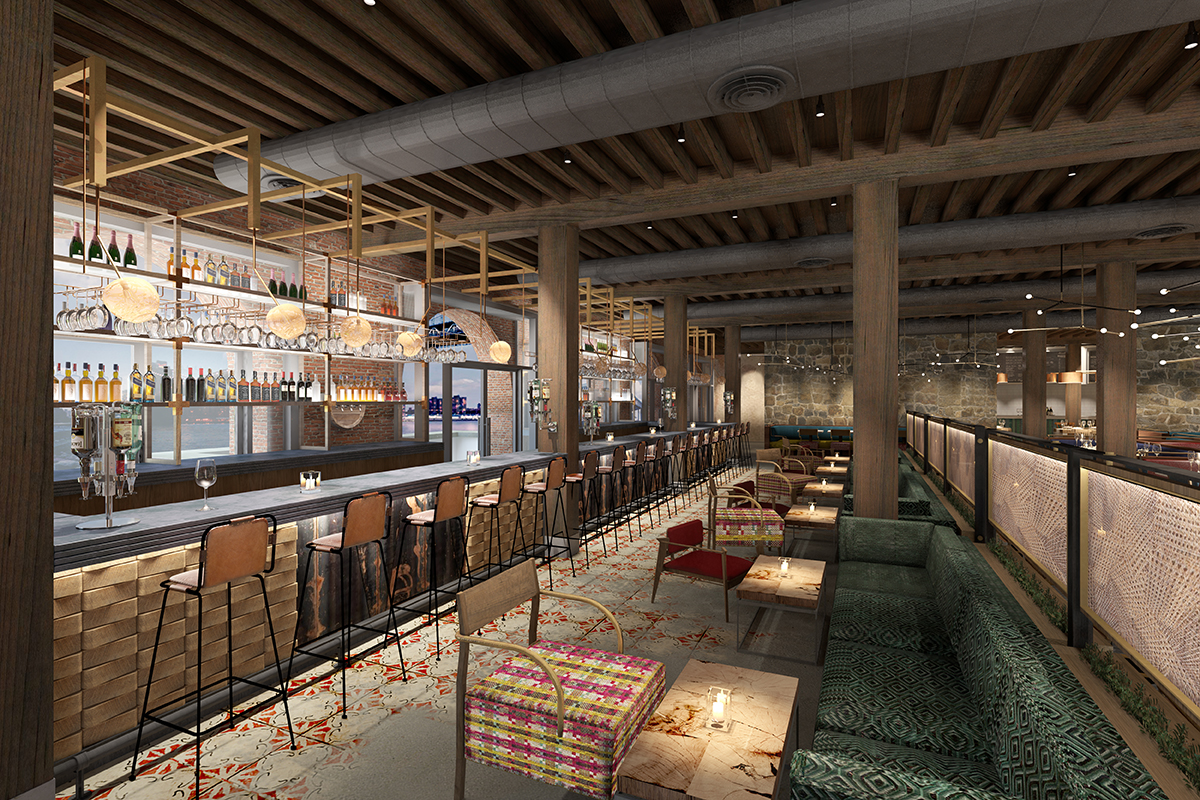 Brooklyn, NY Samba Brands Management and chef partner Timon Balloo unveiled SUGARCANE raw bar grill (55 Water St.) in the 150-year-old Empire Stores landmark building in the Dumbo neighborhood. The Miami-born eatery best known for its take on globally inspired small plates boldly joins the dining scene on the waterfront with a space designed by design firm CetraRuddy.
"Brooklyn is a community that offered us a home in one of the most iconic and picturesque locations in America, as well as being part of the culinary epicenter of NYC," said Danielle Billera, managing partner of Samba Brands. "SUGARCANE raw bar grill's laid-back charm and global soul, coupled with chef Timon's unique and celebrated approach to the world's flavors, make it one of the most special places to me."
Located in the LEED-certified Empire Stores building, a Civil War era landmarked cargo warehouse, between the Brooklyn and Manhattan Bridges, the design of SUGARCANE raw bar grill carries the essence of the flagship in Miami while advancing its spirit to the waterfront in the city. CetraRuddy, in collaboration with Samba Brands, developed a design that maintains the authenticity of the original building, incorporating organic textures and elements, while introducing modern functional pieces, with touches of vibrancy that contribute to the dining experience. The restaurant has a 9,000 s/f interior, a 2,000 s/f outdoor patio, an 18-seat bar, two communal tables, and an open kitchen.
"Our instinct was to minimally impact this monumental space by celebrating the elemental existing materials and its storied past to maintain its authenticity. New design elements highlight the cuisine through textural and crafted detail and vibrant color ensembles," said Nancy J. Ruddy, Founding Principal of CetraRuddy. "For example, antiqued Cuban terra cotta tiles are embedded in raw concrete and hand-sewn fragments of South American caning create ledges for growing herbs that will be used in daily cooking."
James Beard-nominated chef Balloo is recognized for his unique culinary approach that draws inspiration from all regions of the world – accented by his own culturally diverse background – to create immersive flavors beloved by guests.
"No other city represents culinary diversity like New York does. Opening SUGARCANE raw bar grill here is the perfect opportunity to fuse our menu with the location imprint, as well as my own multicultural approach to cooking," said Balloo.
Globally inspired small plates come from three kitchens – an open fire grill, raw bar and traditional kitchen. The menu features SUGARCANE raw bar grill's signature favorites including savory Bacon Wrapped Dates and Goat Cheese Croquettes, Korean-Style Grilled Beef Short Ribs, Hokkaido Scallop Crudos and, under the direction of Executive Sushi Chef Koji Kagawa, a range of Specialty Sushi Rolls. Balloo's emphasis on seasonal ingredients is apparent in the fan-favorite Whole Roasted Chicken with truffled fingerling potatoes and a selection of daily market specials.
Dishes exclusive to the Brooklyn menu, inspired by the market's freshest offerings, include: Creamy Duck & Foie Gras Rice served with smoked paprika and alliums, as well as Cauliflower Tahini with charred purée and za'atar roti.
With one of the most robust rum selections available, SUGARCANE raw bar grill pays homage to its namesake with rum-inspired cocktails including the Tobacco Rum Old Fashioned with Mount Gay Black Barrel, maple, Angostura bitters and homemade cigar bitters; the Beet Mojito with beet infused Flor de Caña rum and mint; and the Monteflor Mule, with Flor de Caña white rum, Amaro Montenegro, ginger beer, marasca cherry syrup and fresh thyme, all of which reflect the restaurant's ethos of enjoying delicious food and drink with good friends.