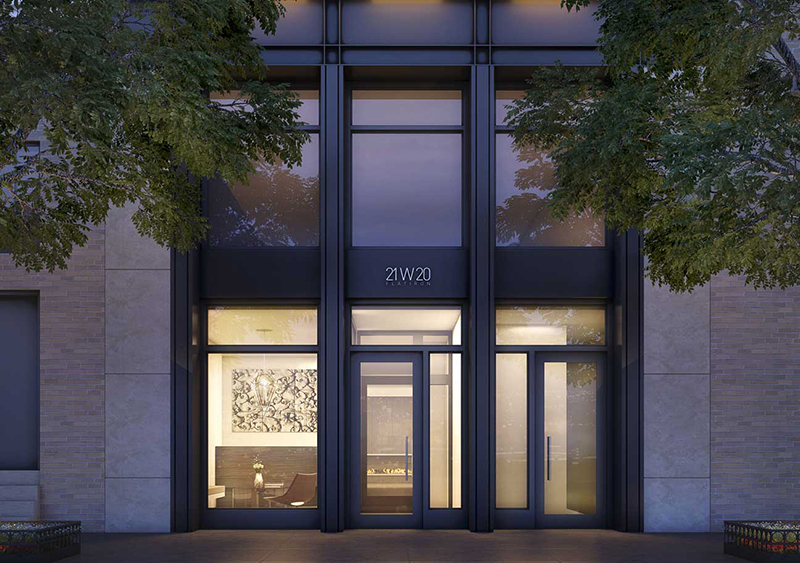 Manhattan, NY 21W20, a new condominium in the Flatiron District, is one of world's first residential projects to be independently certified under the official WELL Building Standard (WELL), which focuses on enhancing occupants' health and well-being through the built environment. The announcement was made by the International WELL Building Institute (IWBI), the public benefit corporation that administers WELL.
The developer of 21W20 is New York headquartered Gale International, a privately held international real estate development and investment firm with active developments valued at more than $40 billion. Gale International is a world leader in sustainability with more than 22 million s/f of green building space certified around the world. Gale is also the master plan developer of the $35 billion, 100 million s/f Songdo International Business District in South Korea, often hailed as one of the greenest, most sustainable new cities in the world.
21W20 is also pursuing LEED certification and is expected to be the first residence to be both WELL and LEED Certified. WELL is grounded in evidence-based health and scientific research that explores the connection between the buildings where we spend more than 90% of our time, and the health and wellness impacts on us as occupants. To be awarded WELL Certification by IWBI, 21W20 underwent rigorous testing by Green Business Certification Inc., the third-party certification body for both WELL and the U.S. Green Building Council›s LEED standard.
"Gale International is very proud to be a standard-bearer for WELL, as we have been with LEED in projects around the world. Now we have the perfect complement in this prestigious certification that recognizes the need to enhance the health and well-being of those who live, work and play in our real estate," said Stan Gale Jr., president, Gale International New York.
"Our homes are the most important spaces on earth," said Rick Fedrizzi, chairman and CEO, IWBI. "That's why we're especially excited that Gale International has become the first WELL Multifamily Residential Certified project in the world, demonstrating in a meaningful way its deep understanding that where we live matters to our health and well-being, and its ongoing commitment to sustainable development. We congratulate the company and the project team on this significant achievement."
"Gale International's commitment to green building and sustainability is a pillar of our focus on quality of life," said Jaclyn Gale, marketing manager, Gale International, who spearheaded the company's WELL initiative.
21W20 achieved Silver level under WELL Multifamily Residential Certification based on seven categories of building performance: air, water, light, nourishment, fitness, comfort and mind. Project features that helped 21W20 achieve WELL Multifamily Residential Certification include advanced technologies that ensure the highest standards of air purification, water filtration and sound attenuation, including MERV 13 Air filtration, three-pane, laminated-glass windows and in-floor acoustic mats to mute interior and exterior noise.
21W20, designed by Beyer Blinder Belle with interiors by David Mann of MR Architecture + Decor, is a super-luxury 13-residence project comprised of four Penthouses and nine Tower Units. The Penthouses provide seamless integration of indoor/outdoor living and are perfect for year-round entertainment. The Penthouses are stepped back and cannot be seen from the street, ensuring the utmost in privacy. 21W20 is located in the white-hot Flatiron District, ideally sandwiched between Union Square and Madison Square Park. Located just off Fifth Avenue, 21W20 features a glass, cast iron and stone façade that rises from the street to the tenth floor. On the eleventh floor, this dramatic building unfolds to its full 100-ft width to reveal full-floor Penthouse Homes perched atop a restored, landmarks-protected structure.