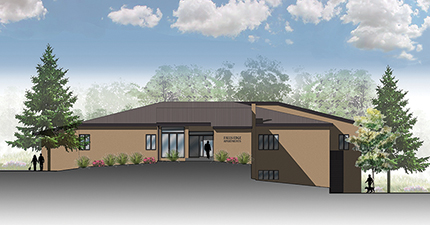 Falls Edge Apartments, 22 High Street - Rensselaer, NY
Rensselaer, NY The principals of Capital District Real Estate Investment Team (CDREIT) have started a $1.85 million comprehensive renovation project. Twelve apartment units will replace vacant office space with housing for young professionals, near downtown Albany, public transportation and highways.
Falls Edge Apartments, located at 22 High St., will offer views of the Albany skyline. Each apartment will offer pre-installed wifi and Sonos home stereo systems, hallway security cameras, granite countertops and in-unit washer/dryers. The building, which will be extensively renovated and updated by CDREIT, is near from the falls at Mills Creek, as wells as hiking and biking trails.
"Falls Edge is a fantastic project for our company, as it will give us the opportunity to execute a top-to-bottom vision for each and every apartment unit," said CDREIT vice president Dan Odabashian. "Our company has a strong, local history of responsible property management, and we are focused on providing high quality residential apartment experiences for our tenants."
"This is a significant investment for the city of Rensselaer in a building that would otherwise sit vacant, and yet another example of positive development that's happening around our downtown," said mayor Dan Dwyer. "The city was immediately impressed by CDREIT's track record in the city of Albany, and I welcome their investment here in Rensselaer."
Falls Edge will be home to 12 one-bedroom units between 650 and 750 s/f. Demolition of former office spaces began recently, and CDREIT expects to have a model unit ready this month, with move-in dates in the spring of 2017.
In addition to the Falls Edge project, CDREIT is also in the process of renovating and revitalizing the location of the former Hinckel Brewery in Albany. The $12.4 million conversion project will bring 75 high quality apartment units to Albany, in proximity to Albany Medical Center, The Capitol, The Egg, New York State Museum, Times Union Center and Lincoln Park.