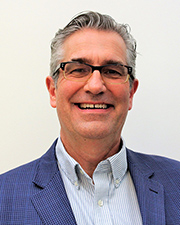 Flushing, NY Martin Biskup has joined Gamco Corp. as corporate sales director. He brings 30 years of experience in the building products industry. He is responsible for expanding sales, building market awareness, and enhancing relationships with architects and design professionals in the NY metro area, as well as Northeast and Mid-Atlantic regions.
In addition to guiding the expansion and sales growth of Gamco Corporation, Biskup is responsible for leading outside sales for Gamco's sister company, Tempco Glass Fabrication, a growing regional glass processing operation. Both Gamco and Tempco are headquartered in Flushing, Queens, in New York City.
"Marty is a valuable addition to the Gamco-Tempco team, with his expertise in the building and property management field," said Johnson Chen, general manager for Gamco and Tempco. "The companies are moving to the next level of technical service and product offerings, and Marty is a key contributor for strategy development, market penetration, brand management, sales growth, and customer relations. His extensive knowledge of building design, glass products, and consultative sales complements our fabrication and design expertise, allowing us to serve our customers in greater ways."
Prior to joining the Gamco-Tempco team, Mr. Biskup was regional sales leader for AGC Glass North America, responsible for business development and sales throughout Metro New York and New England. Mr. Biskup was regional sales representative at General Glass International (GGI), for electrochromic coated and other specialty glass products, consulting with architects and contractors in the Northeast. He gained broad experience in building product sales with Lafarge North America and HH Robertson Company. Biskup developed and expanded markets for structural skylight systems, façades, and interiors with Guardian Industries and Skytech Systems, where he was National Commercial Product Marketing & Sales Manager. Biskup is a US Green Building Council LEED Green Associate and holds a bachelor's degree in Facility Planning, Design and Building Programming from Penn State University.