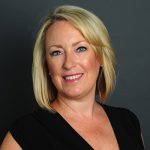 Kirsten Beck, Avison Young
Manhattan, NY Avison Young has promoted Kirsten Beck to principal in the firm's New York City office.
A project management industry veteran for nearly two decades, Beck began her Avison Young career 10 years ago in the firm's N.J. office, overseeing regional initiatives including interior renovations, tenant representation and capital improvement plans. In 2011, she volunteered to launch a NYC operation and now oversees all related Avison Young project management activities throughout the five boroughs and parts of Connecticut.
Under Beck's guidance, the NYC project management division has enjoyed swift growth, significantly increasing its revenue as well as expanding the team from a two-person operation to its current staff of 10 professionals. Simultaneously, she has been recognized as a global Avison Young corporate leader for her involvement in the company's internal project management affinity group, which helps define and expand project management principles for Avison Young offices throughout the world.
"We are thrilled to announce Kirsten's well-deserved appointment to principal. She has made immense contributions over the past several years that have bolstered Avison Young's N.Y. project management platform," said Mitti Liebersohn, president and managing director of the firm's NYC office. "Kirsten's commitment to client service exemplifies our culture of honesty and integrity. Her success in growing the project management team comes as no surprise when you consider her extensive experience and dedication to mentoring other team members. However, it's equally important to recognize the role she has played in shaping the overall corporate-wide Avison Young project management identity."
"Kirsten has a track record of providing her project management clients with strategic solutions that fit seamlessly with their expansion efforts," said Arthur Mirante, Avison Young's tri-state president. "She is widely known throughout the industry for her ability to complete projects on-time and on-budget and her leadership has helped cultivate this important service line for Avison Young. We congratulate Kirstenon her promotion and anticipate continued success from her and her exceptional team."
"We have built an incredible team offering specialized and unique project management expertise and it has been rewarding to see what we have accomplished in a relatively short period of time," said Beck. "I am looking forward to my new role as principal and continuing to work with this collaborative group of professionals as we continue to grow the Avison Young footprint throughout the New York City market."
Prior to joining Avison Young, Beck served as a senior project manager at The Walsh Company and senior project manager for Champion Mortgage. She is a licensed Project Management Professional (PMP) and has received numerous industry recognitions, including being named a Woman of Valor by St. Francis Food Pantries and Shelters in 2015, and her long-standing involvement with IFMA Cares.