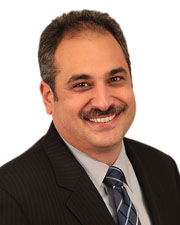 New York, NY Dino DeFeo, PE, LEED AP, a member of AKF's executive committee and campus sector leader, responsible for half the firm's revenue, has been named managing partner of AKF, an award winning global engineering firm specializing in mechanical and electrical engineering for the built environment.
DeFeo will work with Paul Bello, the former managing partner, who has now assumed the role of chairman. As chairman, Bello will remain a member of the executive committee and work on large strategic initiatives, maintain relationships with clients, and serve as principal on major projects.
"Dino is extremely well qualified to assume the leadership position for the firm," said Bello. In addition to serving on the executive committee, he has overseen the significant growth of AKF's national healthcare and higher education sectors. I look forward to working with Dino and the rest of our Partners to continue serving our clients and firm members."
As managing partner, DeFeo will be responsible for the daily operations of AKF and work to position the firm to achieve its short and long term strategic goals. He will work with the executive committee on staff development, building client value, operations, and financial performance.
"Having spent my entire career at AKF I am honored to be the next managing partner to help direct the firm's future," said DeFeo. The success of AKF has been our focus on building meaningful relationships with our clients by listening to their needs, understanding their goals and working tirelessly to achieve them. I look forward to working with Paul and the entire AKF leadership team to serve our clients and firm members".
Born and educated in New York, DeFeo is a graduate of Manhattan College with a bachelor of science in Mechanical Engineering. Upon graduation he joined AKF in 1994 and has over 23 years of experience in the design of Mechanical Systems for Healthcare, Education, Corporate, Institutional, and Science and Technology facilities.
A licensed professional engineer in New York and five other states, Mr. DeFeo is a leader in many professional organizations including New York Building Congress's Healthcare Committee, as well as a number of engineering organizations.
Key projects completed under DeFeo's leadership include: Mt Sinai Health System Queens Ambulatory Care Pavilion, Northwell Health Southside Hospital Campus Advancements, White Plains Hospital's Modernization Program, New York Presbyterian Hospital Emergency Department and Campus Enhancements, Mt Sinai West Surgical Platform and Infrastructure Modernization, and Mt Sinai Health System's Center for Advanced Medicine building.
AKF Group is an award-winning, full-service engineering firm providing a broad range of core engineering and specialty services to public and private sector clients across the United States and around the world.