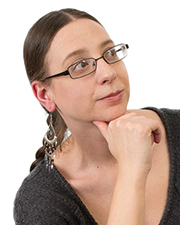 West Seneca, NY Ace of Spades Design is now open full-time as a new marketing resource for real estate agents and property managers throughout Western New York.
The locally-owned company offers print design services including property brochures, postcards, print ads, and self-promotional materials. Evening and weekend hours are available by appointment, as Ace of Spades Design understands the fast-paced nature of the real estate industry–perfect for last-minute open houses or listing appointments.
In addition to print services, the company offers digital marketing services including social media pages and advertisements, digital ad design, and web design.
Ace of Spades Design also offers private and group training classes on topics such as Facebook, Craigslist, Authentisign, and more. Classes are available in clients' homes or of?ces.
Amanda Poreda is the owner and operator of Ace of Spades Design. She holds a BFA in graphic design from Daemen College. Poreda has been working in print and web design for over 16 years, with 12 of those years devoted speci?cally to the real estate industry. This makes her one of the area's leading experts in real estate marketing.
"I love working with real estate agents and property manages," said Poreda. "It is my goal to provide them with quality marketing solutions that ?t their unique needs."
Ace of Spades Design, founded in 2001, is woman-owned business.