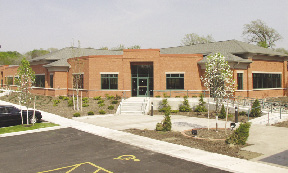 Ciminelli Real Estate Corporation, one of Western New York's leading full service real estate companies, has signed Tower Insurance Group expanding their footprint at Centerpointe Corporate Park from 19,000 s/f to approximately 37,000 s/f. The lease complements Tower's existing presence at 600 Essjay Rd., where they have occupied office space since September 2007.
The latest lease agreement for an additional 17,000 s/f at 550 Essjay Rd., adjacent to their existing space at 600 Essjay Rd., marks significant growth of Tower Group as a tenant in Centerpointe Corporate Park.
Robert McDonnell, vice president of Ciminelli Real estate Corporation, noted that Centerpointe Corporate Park continues to be a prestigious corporate address in Western New York and was an obvious choice for Tower Group. "The proximity of the two buildings, surrounding amenities, ease of access to the business park, and abundant parking combine to make Centerpointe a perfect fit for Tower Group."
Ciminelli began development of the office park in 1987. Today, Centerpointe Corporate Park is still the premier class A office park in Amherst, N.Y, consisting of 13 buildings totaling approximately 450,000 s/f.
Edward McGinn, associate broker for Ciminelli Real Estate and Shana Stenger, director office sales and leasing for CBRE Buffalo brokered the transaction.
Ciminelli Real Estate Corporation specializes in commercial real estate services including leasing, marketing and property management to over 350 international, national, and local clients in Western and Central N.Y., Penn., and Florida.