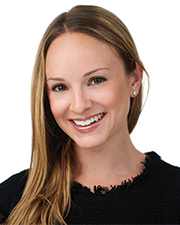 Name: Jennifer (Brod) Bernstein
Title: Director
Company Name: ABS Partners
Years in real estate: 4
What real estate associations or organizations are you a member of? Real Estate Board of New York, International Council of Shopping Centers
How have you navigated obstacles to achieve success in your career? I started in real estate four years ago after a five-year stint in public relations. The first few years in the industry were very difficult. At the end of the day, real estate brokerage is a people business and it takes time to meet all of the "people" – retail brokers, landlords and potential tenants. I've made a point of attending as many networking and broker events as possible in an effort to introduce myself to others and put faces to names. I continue to meet new people all the time.
How do you play your strengths to your advantage in your career? I'm a New Yorker. I grew up on the Upper East Side, went to college at NYU and currently live in the city. I know the city like the back of my hand. Not only can I can tell you which store is on what corner, but I know the store that came before it, and the store before that. I think that's a pretty unique perspective for someone who has only formally been in the industry for a few years. Informally, I have been around the New York real estate scene since I was a kid as my father, John Brod, has been in the industry for 30 years. Our dinner conversations revolved around where tenants should lease space and what deals were happening. I guess it rubbed off on me.
What trends are you seeing so far this year? I think most people would agree that the retail landscape is undergoing a transformation. Traditional bricks and mortar retailers are altering their business models to fit the current environment. In response to changing market demand, landlords are lowering rents and appear more willing to take short-term deals, pop-up tenants and traditional restaurants in their spaces – landlords would have once scoffed at the idea of venting! Overall, I think we will continue to see more online retailers opening physical stores, more beauty concepts expanding to New York and less aggressive fast casual restaurant expansion.
What do you do for fun? I am a new mom so right now my definition of fun is changing diapers and late-night lullabies!