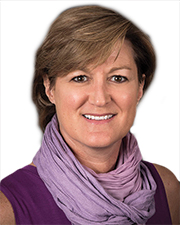 Name: Deanna Dal Pos
Title: Commercial Specialist
Company Name: NAI Platform
Years in real estate: 8
What real estate associations or organizations are you a member of? CIREB, NYSCAR
How have you navigated obstacles to achieve success in your career? With FOCUS! I identified the fast-growth market of Troy well before many people saw its potential. I've been an evangelist for the city, businesses, its people and happenings. In fact, I created an economic development type website that the city, the BID and the Rensselaer Chamber of Commerce are sending people to for information on all-things-Troy. (www.TroyCommercialRealEstate.com) It includes market details, stories on big development projects, demographic details, information on who's who and much more. I'm also continually promoting the city via Facebook page (https://www.facebook.com/TroyCommercialRealEstate/) Instagram and LinkedIn.
How do you play your strengths to your advantage in your career? I'm a connector. I like bringing people together to help them achieve their own goals. This bodes well because eventually these people or those that they know need to find an office space, sell their building or are looking to buy property. I love to think creatively. So much so that people are coming to me to think of new uses and ways to position their properties. For example, do you know of any data centers interested in an underground cave complete with lakes at a constant 40º temperature to cool the servers? Also, I don't give up easily. If I have to camp out at city hall to get the attention of a key constituent to move along a project, I will.
What trends are you seeing so far this year? There is a reason why Troy is being touted as the "New Brooklyn." Brooklyn investors and forward-thinking contractors have their sights set on the sites of Troy. They see value and opportunity and are buying up buildings. Millennials, professionals, empty-nesters love the city's walkability and are flocking back to this urban environment. As a result, most of Troy's gorgeous Victorian buildings and factories are being restored into apartment buildings. Of course, we could always use some more parking.
What do you do for fun? Socialize in Troy! Take part in Rockin on the River, Farmers' Market, Victorian Stroll Startup Tech Valley pitch meetups and many other events.