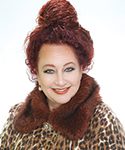 Inbar Mitzman, Daniel Gale
Sotheby's International Realty
Name: Inbar Mitzman
Title: Associate Real Estate Broker
Company Name: DANIEL Gale Sotheby's International Realty             
Email: inbarmitzman@danielgale.com             
Years in real estate: 20
Telephone: 516-551-5727
How did you get your start in real estate?  
I have been in sales all my life. First with United Airlines in Manhattan got my license when my twin boys were born...loved the profession from the get go...Helping people find new homes to actualize their dreams.
What real estate associations or organizations are you a member of?
CIPS, AAREA,CIBS,NAR
What recent project or transaction are you most proud of?
Recent sale of 800 Northern Blvd in Great Neck NY  a Retail Strip Center with FedEx as one national tenant as well as one of Northwell Health care division.
Who or what has been the strongest influence on your career and why?
The subtotal of my personal and professional life experiences and all the people in between. You learn from everybody…know how to listen, respect all people, help all people, and never hold a grudge. In addition, selling commercial real estate is very rewarding by itself  because it allows you to be a part of many people's American dream. Dealing with principle owners teaches you a lot about the decision making process and the many aspects of the deal, leading you to become a better broker.
What is the best advice you have received and who was it from?
"In the feast of egos everyone walks away hungry." And never promise more than you can deliver.